Dari Tradisional Ke Digital: Pemasaran Film dan Tantangan Konsumsi
Didy Ika Supryadi

Universitas Mataram

Luluk Fadliyanti

Universitas Mataram
Keywords:
Film, Pemasaran 4.0, Bauran Pemasaran Film Digital
Abstract
Tujuan Penelitian ini adalah untuk mengidentifikasi bauran pemasaran film digital dan pentingnya bagi konsumen dari faktor-faktor yang didefinisikan sebagai bauran pemasaran tersebut. Selain itu, tujuan lainnya untuk mengeksplorasi tantangan-tantangan yang dihadapi dalam penerapan strategi bauran pemasaran film di era 4.0. Desain / metodologi / pendekatan penelitian ini didasarkan pada tinjauan literatur dan penilaian kritis terhadap literatur dalam bidang pemasaran film digital kontemporer. Untuk mengidentifikasi konsep dan mendiskusikan tantangan praktisnya, penulis menemukan beberapa referensi dengan meninjau definisi dan konsep yang ada dalam literatur terkait. Temuan Penerapan strategi pemasaran di era 4.0 dengan menggunakan pendekatan bauran pemasaran juga mengalami pergeseran dibanding era sebelumnya. Strategi pemasaran saat ini harus mampu beradaptasi dengan kemajuan teknologi dan informasi. Tantangan tersebut harus mampu diatasi agar industri perfilman di era digital tetap eksis dan makin kompetitif.
References
Boccardelli, P., Brunetta, F., & Vicentini, F. (2008). What is critical to success in the movie industry ? A study on key success factors in the Italian motion picture industry DIME Working Papers on INTELLECTUAL PROPERTY. 46(46). https://eprints.luiss.it/183/
Elif Ulker-Demirel, Ayşe Akyol, Gülhayat Gölbaşı Şimşek. (2018). Marketing and consumption of art products: The movie industry. Unit 07, 1–5. https://doi.org/https://doi.org/10.1108/AAM-06-2017-0011
Elswah, M. (2016). Netflix vs. Illegal Downloading: Digital Movie Piracy in Egypt. SSRN Electronic Journal, 1–28. https://doi.org/10.2139/ssrn.2882715
Gazley, A., Clark, G., & Sinha, A. (2011). Understanding preferences for motion pictures. Journal of Business Research, 64(8), 854–861. https://doi.org/10.1016/j.jbusres.2010.09.012
Idayu, R. (2019). Genre As The Attraction Factor Of A Film : A Case Study Among Universiti Sains Islam Malaysia Universiti Sains Islam Malaysia Genre As The Attraction Factor Of A Film : A Case Study Among Universiti Sains Islam Malaysia.
John, K., Ravid, S. A., & Sunder, J. (2017). Managerial ability and success: Evidence from the career paths of film directors. Journal of Corporate Finance, 44, 425–439. https://doi.org/10.1016/j.jcorpfin.2014.11.001
KERRIGAN, F. (2010). The Film Marketing Mix. In Film Marketing (First Edit). Elsevier Ltd. https://doi.org/10.1016/b978-0-7506-8683-9.10005-5
Lash, M. T., & Zhao, K. (2016). Early Predictions of Movie Success: The Who, What, and When of Profitability. Journal of Management Information Systems, 33(3), 874–903. https://doi.org/10.1080/07421222.2016.1243969
Nam, S. H., Chang, B. H., & Park, J. Y. (2015). The potential effect of VOD on the sequential process of theatrical movies. International Journal of Arts Management, 17(2), 19–32.
Oh, S., Baek, H., & Ahn, J. H. (2017). Predictive value of video-sharing behavior: sharing of movie trailers and box-office revenue. Internet Research, 27(3), 691–708. https://doi.org/10.1108/IntR-01-2016-0005
Parsons, E., Maclaran, P., & Chatzidakis, A. (2017). Contemporary issues in marketing and consumer behaviour: Second edition. In Contemporary Issues in Marketing and Consumer Behaviour: Second Edition. https://doi.org/10.4324/9780203526040
Tejada, K. (2015). Social Media Marketing in the Film Industry. Arts Marketing, March, 19. https://doi.org/10.4324/9780080472058
Wehrmann, J., & Barros, R. C. (2017). Movie genre classification: A multi-label approach based on convolutions through time. Applied Soft Computing Journal, 61, 973–982. https://doi.org/10.1016/j.asoc.2017.08.029
https://kabar24.bisnis.com/read/20191017/19/1160322/saham-netflix menguat-berkat-kenaikan-jumlah-pelanggan-baru).
https://variety.com/2014/digital/news/survey-youtube-stars-more-popular-than-mainstream-celebs-among-u-s-teens-1201275245/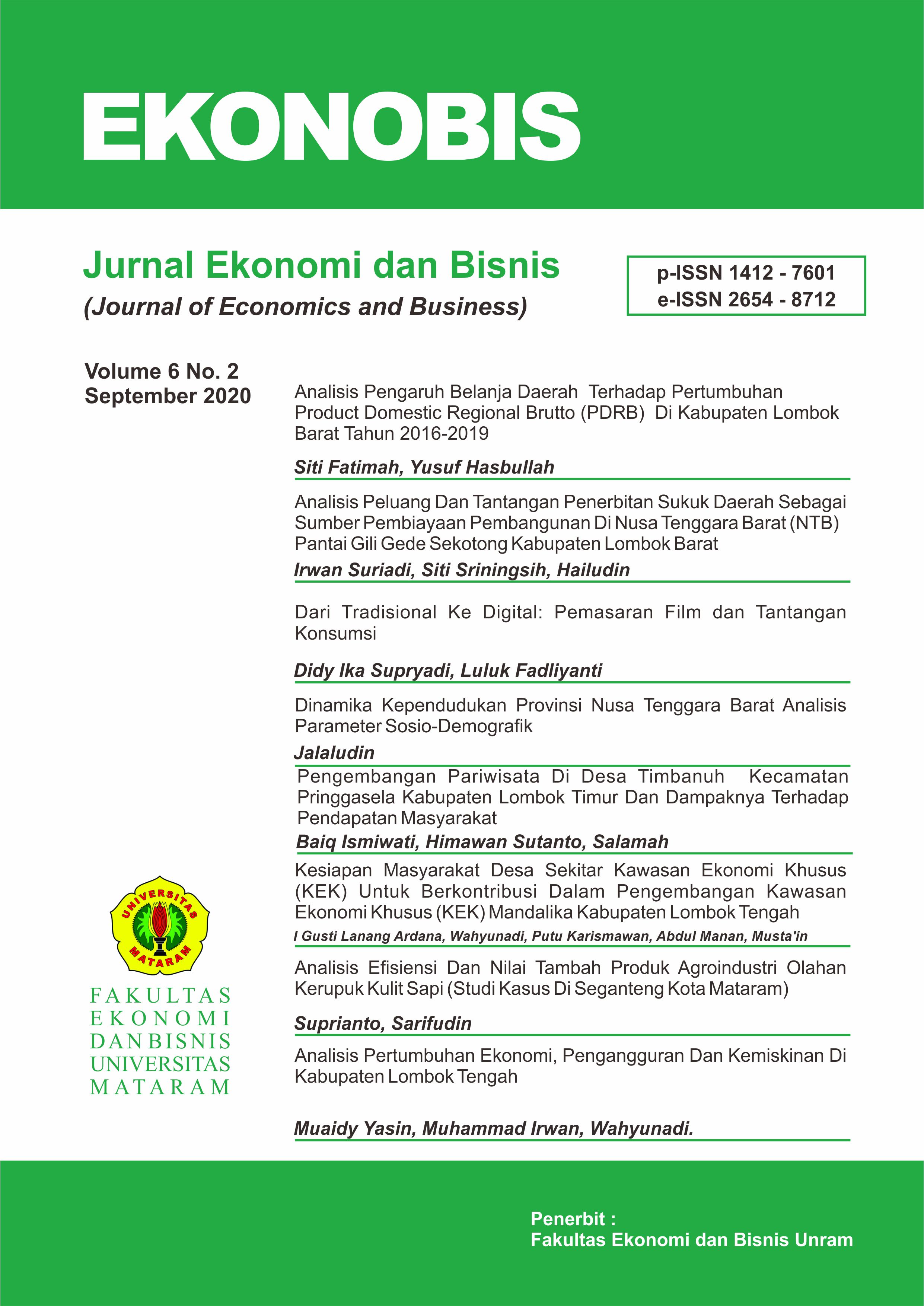 How to Cite
Didy Ika Supryadi, & Luluk Fadliyanti. (2020). Dari Tradisional Ke Digital: Pemasaran Film dan Tantangan Konsumsi. Journal of Economics and Business, 6(2), 58 - 66. https://doi.org/10.29303/ekonobis.v6i2.47
Copyright (c) 2020 Jurnal Ekonomi dan Bisnis
This work is licensed under a Creative Commons Attribution-ShareAlike 4.0 International License.
Penulis yang naskahnya diterbitkan menyetujui ketentuan sebagai berikut:
Hak publikasi atas semua materi naskah jurnal yang diterbitkan/dipublikasikan dalam situs Jurnal AKURASI ini dipegang oleh dewan redaksi dengan sepengetahuan penulis (hak moral tetap milik penulis naskah).
Ketentuan legal formal untuk akses artikel digital jurnal elektronik ini tunduk pada ketentuan lisensi Creative Commons Attribution-ShareAlike (CC BY-SA), yang berarti Jurnal AKURASI berhak menyimpan, mengalih media/format-kan, mengelola dalam bentuk pangkalan data (database), merawat, dan mempublikasikan artikel tanpa meminta izin dari Penulis selama tetap mencantumkan nama Penulis sebagai pemilik Hak Cipta.
Naskah yang diterbitkan/dipublikasikan secara cetak dan elektronik bersifat open access untuk tujuan pendidikan, penelitian, dan perpustakaan. Selain tujuan tersebut, dewan redaksi tidak bertanggung jawab atas pelanggaran terhadap hukum hak cipta.