Mengenal Pemikiran Old Institutional Economics (OIE) Dalam Ilmu Ekonomi Kelembagaan
M. Firmansyah

Universitas Mataram
Keywords:
Ekonomi Kelembagaan Lama (OIE), Veblen, Common, Mitchel dan Ayres
Abstract
Artikel ini menjelaskan beberapa bentuk pemikiran Ekonomi Kelembagaan Lama. Metode yang digunakan dalam artikel ini adalah penelitian kepustakaan. Ada beberapa temuan artikel ini: 1). Gagasan Ekonomi Kelembagaan lama secara umum menolak pemikiran klasik yang mengabaikan faktor-faktor kelembagaan berupa nilai-nilai, budaya dan rule of life dalam ilmu ekonomi. 2). Peletak dasar pemikiran ekonomi kelembagaan adalah guru dan murid, di mana Thorstain B Veblen merupakan god father dari ilmu ekonomi kelembagaan. 3). Veblen mengedepankan evolusi pemikiran yang berdasar pada kondisi lingkungan sosial tempat individu hidup. 4). Pemikiran Murid-murid Veblen, yaitu Commons menitikberatkan pada multidisiplin ilmu dalam mejelaskan ilmu ekonomi, Mitchell menitikberarkan pada karakter perilaku berdasar kelembagaan lokal dan Ayres menitikberatkan pada perubahan kelembagaan.
References
Atay, Eda G, Joseph S, Melika H dan Muris Č, 2010. Influence Of Materialism On Life Satisfaction. Vol. XXII (2010), br. 2, str. 151-166
Burroughs, J E, L. J. Shrum, Rutgers, Rindfleisch, A, 2002. Does Television Viewing Promote Materialsm? Cultivating American Perceptions of the Good Life. Advances in Consumer Research (Volume 29).
Firmansyah, M; Suman, A; Manzilati, A dan Susilo. 2012. Perdebatan Teori Rasionalitas dalam Menjelaskan Terbentuknya Biaya Transaksi pada Seleksi Pegawai Negeri. Jurnal Ekonomi dan Pembangunan Indonesia. Vol, 13 No. 1

Hodgson, G, M, 2003. John R Commons and the Fondation of Institutional Economics. Journal of Economics Issues. Vol.XXXVII. No.3 September
North, D. C, 1990. Institutions, Institutional Change And Economic Performance. Cambridge: Cambridge University Press
Schmid, A.A, 2004. Conflic and Cooperation: Institutional and Behavioral Economics. USA: Blackwell Publishing
Milonakis, D., & Fine, B, 2009. From Political Economics to Economics: Method,the Social and the Historical in the Evolution of Economic Theory. London & New York: Routladge
Lyotard, Jean-Francois. 2009. The Post Modern Condition: A Report on Knowladge. Elyati, DV (Penerjemah). Kondisi Post Modern: Suatu laporan Mengenai Pengetahuan. Surabaya. Selasar Publishing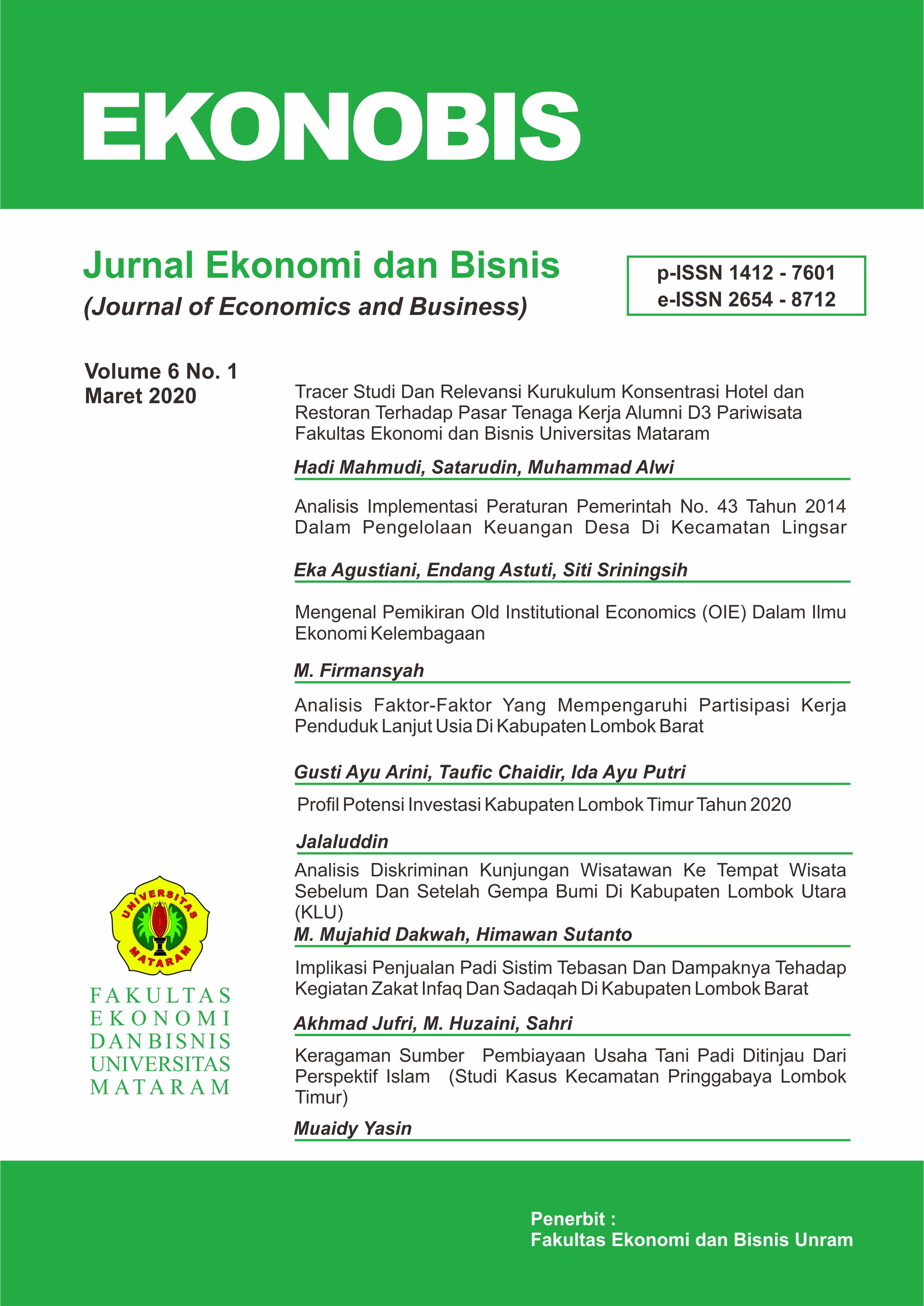 How to Cite
M. Firmansyah. (2020). Mengenal Pemikiran Old Institutional Economics (OIE) Dalam Ilmu Ekonomi Kelembagaan. Journal of Economics and Business, 6(1), 37 - 46. https://doi.org/10.29303/ekonobis.v6i1.39
Copyright (c) 2020 Jurnal Ekonomi dan Bisnis
This work is licensed under a Creative Commons Attribution-ShareAlike 4.0 International License.
Penulis yang naskahnya diterbitkan menyetujui ketentuan sebagai berikut:
Hak publikasi atas semua materi naskah jurnal yang diterbitkan/dipublikasikan dalam situs Jurnal AKURASI ini dipegang oleh dewan redaksi dengan sepengetahuan penulis (hak moral tetap milik penulis naskah).
Ketentuan legal formal untuk akses artikel digital jurnal elektronik ini tunduk pada ketentuan lisensi Creative Commons Attribution-ShareAlike (CC BY-SA), yang berarti Jurnal AKURASI berhak menyimpan, mengalih media/format-kan, mengelola dalam bentuk pangkalan data (database), merawat, dan mempublikasikan artikel tanpa meminta izin dari Penulis selama tetap mencantumkan nama Penulis sebagai pemilik Hak Cipta.
Naskah yang diterbitkan/dipublikasikan secara cetak dan elektronik bersifat open access untuk tujuan pendidikan, penelitian, dan perpustakaan. Selain tujuan tersebut, dewan redaksi tidak bertanggung jawab atas pelanggaran terhadap hukum hak cipta.